---
Why Shop with Us?

☑ We will
MATCH OR BEAT
any Competitor's Price. Simply
Contact Us.
☑ Friendly & Responsive Award Winning Customer Service Team.
☑ SSL Secure Payment Gateway & Hassle Free Returns Makes Shopping Easy and Stress-Free.
---
Rock-Ola Elvis Bubbler CD Jukebox in Black Finish (J-70421-A)
The cream of American jukeboxes meets one of the most legendary musical acts of all time. The farmhouse boy from Mississippi had barely graduated from high school before he became an international hit sensation, constantly breaking records (and hearts) with his astounding performances and provoking almost universal critical acclaim. This classic Bubbler jukebox is a limited edition, available in either black or white. Only 99 of each color were ever produced, making this device highly sought after by fans the world over, as the ultimate in rock and roll artifacts.
Limited Edition: Only 99 Machines Made in each Finish
Bluetooth Enabled: Connect via devices such as mobile to live stream (Spotify, i-tunes, etc)
High Power: High-performance power - these jukeboxes have high wattage
5 Speaker System: 2x3" Tweeters, 2x6.5" Speakers, 1x10"  Subwoofer
Low Heat Amplifier: Ensure the longevity of the jukebox

"Live" Sound Quality: "Live" performance reproduction. High-quality performance
CD Player: Directly plays CD's through the Jukebox with a high tech self-adjusting laser
Additional Features: 
Model: CD8E-GWE
Made in California, USA
Dimensions: (H) 152cm x (W) 84cm x (D) 68cm
CD Capacity: 100
Compatible with Mobile Phone and tablets for Bluetooth streaming
Gold colored metal trims and base
Also available in Gloss Black finish
Individualized Elvis Presley murals
Remote controlled night light
Guitar shaped CD holder
Custom title cards with the 60th Anniversary logo
60th Anniversary monogrammed glass
Custom grill cloth with music note
Illuminated Anniversary logo in the speaker grill
Anniversary medallion in the front door
Signed brass plate with stamped edition number
Officially signed certificate of authenticity
Limited Edition - only 99 machines in each finish
5-Speaker, Dual 3-Way System for "Live" Performance Reproduction
CD Player and Self-Adjusting Laser
QSC 450 watt RMS amplifier
Can be linked to an Integrated Music System (e.g. Sonos)
Electrical: 90-250 Volts [50/60 Hz]
Power Output: 1600 Watts RMS Power
One Year Parts Warranty
The Bubbler shares the Wurlitzer's famous grille and gets its name from the pockets of air that float up to the top of the eight bubble tubes lining the machine. These bubbles slide through the deep, hypnotizing colors created by the rotating pilasters, making the Bubbler as enchanting to the eye as it is to the ear. This beautiful, iconic machine is robust too, with a strong hand-built cabinet which comes in a choice of light oak, walnut, or satin black, which allows some of the wood grain to show through. Also available at a slightly higher cost is gloss black and gloss white finishes.
The Bubbler CD-8 is manufactured by Rock-Ola: creators of the only true authentic, brand new American CD jukebox on the planet.
It has the honor of having the best sound quality of any new jukebox, with its many innovative features all working in conjunction to bring you perfect sound quality at both high and low volumes. As standard, our AV technicians fit a Bluetooth dongle which allows a remote connection so that it can be paired with any blue tooth music device (e.g. an iPod or iPhone).
The Bubbler's sophisticated 5 internal speakers employ a Dual 3-Way system for 'Live Performance Reproduction', creating a sound quality so perfect that you can close your eyes and swear your favorite musicians were playing the music right there in the room with you. The authentic disc loader is modeled closely after the older designs used to play the 45rpm vinyl records in 1950s America, and the 100 Capacity magazine lets you fill the Bubbler CD-8 to the brim with albums of your choice; allowing you to enjoy your favorite artists in perfect quality, from the comfort of your home. It is also possible to link the Bubbler to an existing in-house Integrated Music System, such as Sonos.
One Of A Kind Craftsmanship
When you buy any Rock-Ola jukebox you have the option to come and see your jukebox come to life in our factory! You can meet the team that handcraft our jukeboxes and learn the intricacies, skill, and passion involved in creating these iconic machines. You'll be contacted after your purchase with more information!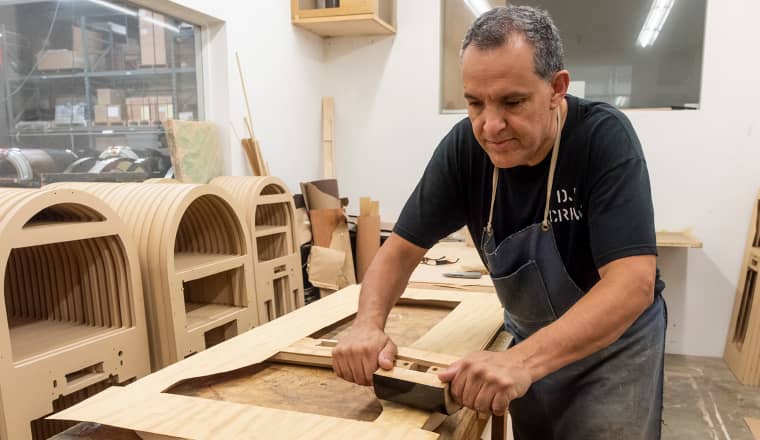 THE HISTORY OF ROCK-OLA
Since 1927. Rock-Ola has manufactured quality entertainment machines. Recognised all over the world, the Rock-Ola name is synonymous with jukeboxes and rock and roll. Since 1977, The Antique Apparatus Company has stood for uncompromising quality, taking great pride in having engineered, refined, and manufactured the first and finest "Nostalgic" Jukeboxes. In 1992 Antique Apparatus and Rock-Ola combined their strengths and merged to create the best Commercial & Nostalgic Jukeboxes on the market and they continue to do so today.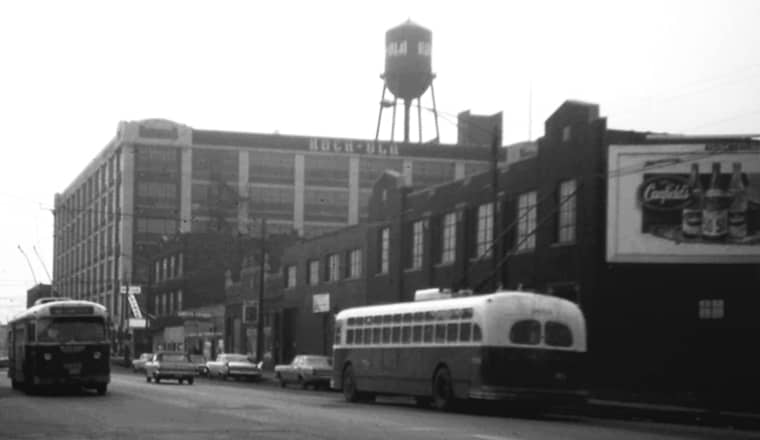 INSPIRED BY "ROCK & ROLL"
Rock-Ola Manufacturing Corporation was founded in 1927 by the Coin-Op pioneering legend David C. Rockola. In 1935, Rock-Ola vaulted into jukebox manufacturing. He inspired the term "Rock & Roll" and has left an indelible mark on an industry that literally echoes his name. Rock-Ola sold more than 400,000 jukeboxes under the Rock-Ola brand name, which predated the rock and roll era by two decades.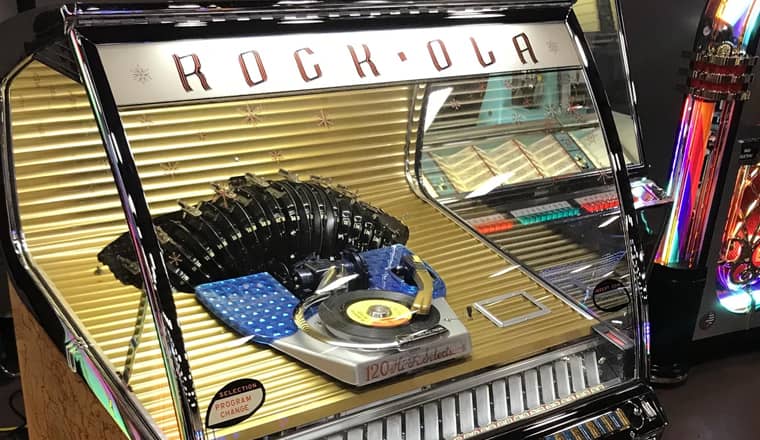 WARRANTY PERIOD

In keeping with its high standards of quality, Rock-Ola Manufacturing LLC provides consumer purchasers with a one (1) year (from delivery date) Limited Warranty for normal use only.
This one (1) year Limited Warranty is hereafter referred to as The Warranty Period and is subject to certain conditions (as outlined below).

WHAT THE WARRANTY COVERS

Rock-Ola Manufacturing LLC  will replace, any component part which is defective or that malfunctions within the warranty period.

EXCLUSIONS FROM WARRANTY

Every component part returned to Rock-Ola Manufacturing LLC  shall be examined.
Malfunctions, defects, or failures of any component parts due to alterations made to the jukebox, improper or negligent use or abuse, or use of the machine for rental purposes or use not in accordance with the Instruction Guide provided with the machine are excluded under this Warranty.


Any attempt to repair/tamper with the machine voids the Warranty.
The warranty does not include a refund of the purchase price.


Use of the machine for commercial purposes (other than rental) is covered by this Warranty for a One (1) year Warranty Period only to the extent that malfunctions, defects, or failures of the machine or component parts are not due to alterations made to the machine, improper or negligent use or abuse, or use not in accordance with the Instruction Guide provided with the machine, or normal commercial wear and tear.

FURTHER LIMITATIONS

In no event shall Rock-Ola Manufacturing LLC be liable for any consequential or incidental damages you may incur in connection with the purchase and use of the machine; including, without limitation, commercial loss or for any incidental expenses, damage from improper use of either machine or products used in the machine, loss of time, or inconvenience.


The equipment must have a valid planned maintenance schedule which must be carried out in accordance with the Instruction guide.
All daily checks of the equipment must be carried out in accordance with current Health and Safety Legislation.


Rock-Ola Manufacturing LLC may request the service and maintenance records relating to the jukebox.
The King Approves
We LOVE Elvis and can't believe we found this gem. Worth every penny. Ask for a discount and you'll get one!
Classic
So glad we got this classic jukebox with new technology. Worth waiting a few weeks for shipping knowing it was custom made for us.